Find Your Battery
AGM Batteries with VRLA technology are preferred in a wide range of vehicles and different usage areas. Mutlu AGM Batteries provide energy for the operation of the engines and equipment in the vehicles. Mutlu AGM Batteries, which have up to 3 times longer cycle life compared to standard batteries, offer up to 40 percent higher performance. Thanks to their high vibration resistance, they exhibit superior performance compared to standard batteries in extreme climates, variable air temperatures and intense working conditions. Mutlu AGM Batteries have a long service life with their grids with casting technology, glass mat separators, and cover systems with special pressure control valves (VRLA).
Mutlu AGM Batteries meet vehicle manufacturers' technical and superior performance expectations and have a fast charging feature that goes well with the Start-Stop technology. Mutlu AGM Batteries are designed considering the needs of passenger cars with a Start-Stop feature with a new generation regenerative braking system. Brake energy is recovered in these systems. Mutlu AGM Batteries provide advantages with their long cycle life in minivan and panelvan vehicles with Start-Stop and regenerative braking systems that need intense energy. Mutlu AGM Batteries are also preferred for minibuses with similar features, used in VIP transportation with both personnel transportation and high interior equipment. Mutlu AGM Batteries also provide energy for caravans and motor caravans, which are indispensable for free travelers and camping enthusiasts.
Mutlu AGM Batteries can also be used in cold chain transportation and cooling systems. Mutlu AGM Batteries with a long service life can also be used in cleaning equipment and UPS systems.
More
Special design for vehicles with advanced Start-Stop technology including regenerative braking
Thanks to VRLA technology, 3 times longer cycle life and higher charging capacity than standard flooded type batteries
Wide range of products that meet the technical and superior performance expectations of vehicle manufacturers
Up to 40% higher performance thanstandard batteries
Up to 3 times longer cycle life
Quick charge acceptance forStart-Stop technology
Innovative solutions for vehicles equipped with the Start-Stop technology that supports low carbon emissions
Higher performance under extreme climate conditions compared to standard batteries
Patented calcium (Ca) alloy grid technology
Maintenance-free and fully sealed cover system with a pressure control valve (VRLA)
Active substance developed specifically for the AGM technology
Higher vibration resistance compared to standard batteries
Products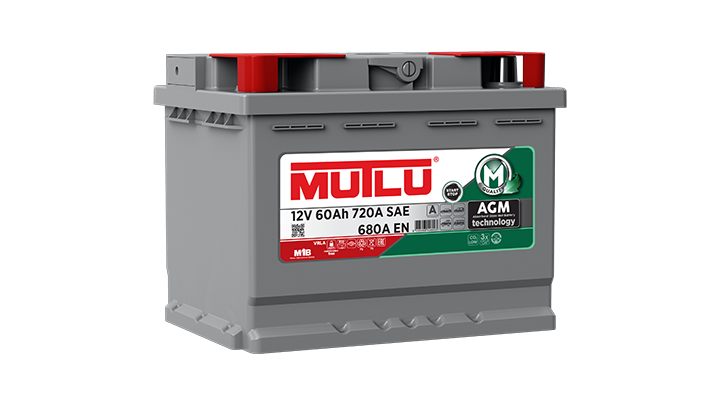 60Ah AGM
Mutlu Code

AGM.L2.60.068.A

Capacity (Ah)

60

CCA EN (A)

680

Box

L2

Length (mm)

242

Width (mm)

175

Height (mm)

190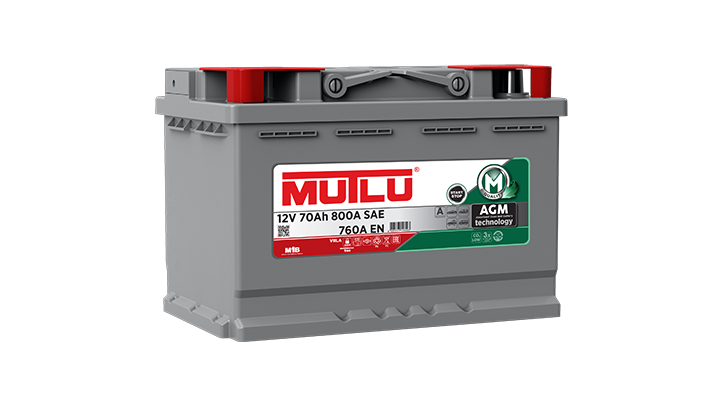 70Ah AGM
Mutlu Code

AGM.L3.70.076.A

Capacity (Ah)

70

CCA EN (A)

760

Box

L3

Length (mm)

278

Width (mm)

175

Height (mm)

190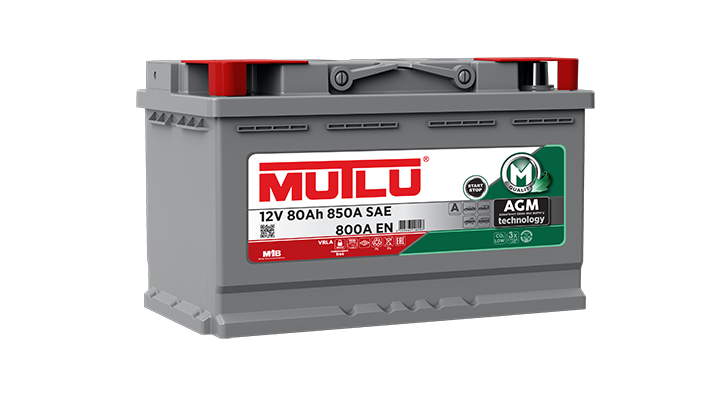 80Ah AGM
Mutlu Code

AGM.L4.80.080.A

Capacity (Ah)

80

CCA EN (A)

800

Box

L4

Length (mm)

315

Width (mm)

175

Height (mm)

190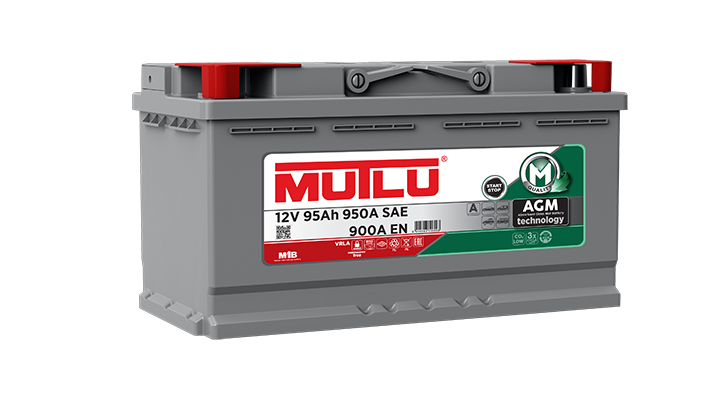 95Ah AGM
Mutlu Code

AGM.L5.95.090.A

Capacity (Ah)

95

CCA EN (A)

900

Box

L5

Length (mm)

353

Width (mm)

175

Height (mm)

190